Good morning! I'm happy to have Jennifer Flores from Rambling Renovators here on the blog today to share her Seven Things.
Hi Decor Happy friends! When Vanessa asked me to share the seven things that make me (decor) happy, I had too much to share. I love most everything about my home. But what do I love love? What couldn't I live without? I'd have to say this is the list:
1. Frosted Glass Doors & Decals – Our traditional shaker style glass interior doors (the bathroom door is half frosted and the laundry room is full frosted) let in natural light and suit the style of our 1950's home.
2. Fireplace Marble Tile – Classic yet modern, we had 2″x12″ tiles of Oriental White marble custom cut from 12″x12″ tiles. It was just the look we wanted for our living room fireplace.
3. Master Bedroom moulding. This simple wall treatment gives our all white master bedroom visual interest.
4. Turquoise Mailbox. We turned an old milk box into a pretty mailbox. Its makes me smile every day.
5. Basement Craft Zone. I can spend hours making a big old crafting mess in the craft zone.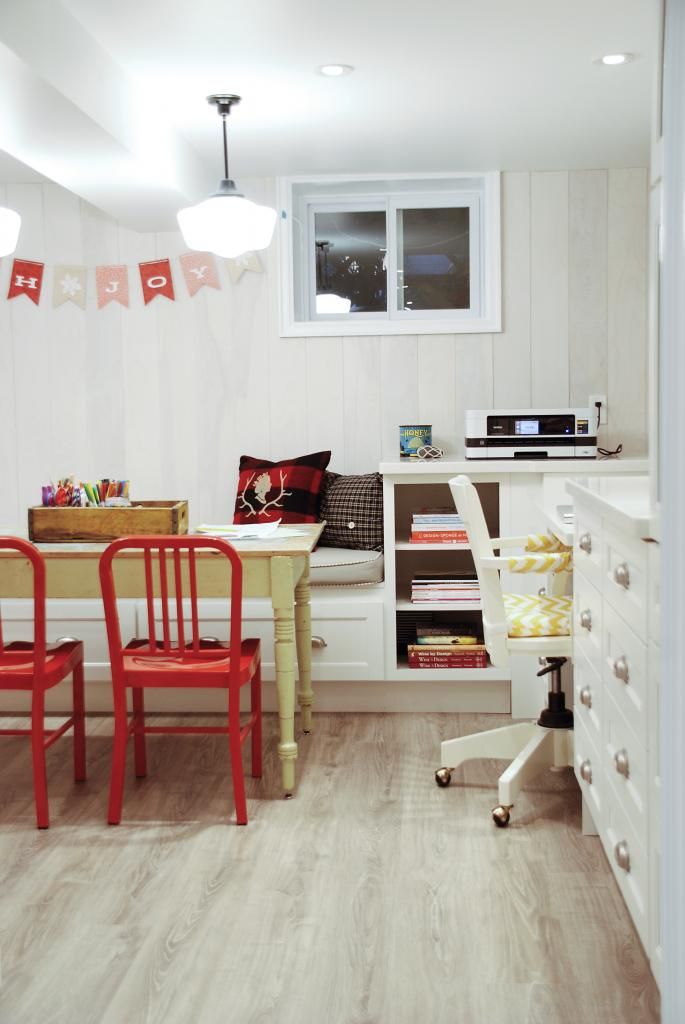 6. The Laundry Room. Because of this room, I actually don't mind doing the laundry that much anymore.
7. Bathroom wallpaper. It took me a long time to decide but I couldn't be happier with the black wallpaper in our basement bathroom.
Thanks for letting me share my decor happiness Vanessa!
No, thank you Jen!  I love all of those special details in her home.  Don't you? You can tell that thought and care was taken with every design decision.  I need to add a frosted door to my home office and one of my past clients loved the moulding in Jen's bedroom so much that we recreated it – thanks for inspiring us!
And if you didn't know, Jen is the mastermind behind BlogPodium.  If you are a design or lifestyle blogger, you need to attend. Early bird tickets are being sold until June 29th, so get your tickets before then at a lower price.
Have a great week everyone!
(PS I hope you are enjoying the series so far. Let me know your thoughts in the comments.)